Daily Rent
For Month
For Rent
The Pamba Heritage Villa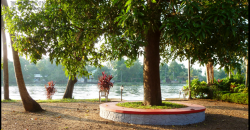 Description
The Pamba Heritage Villa – a most perfect blend of the old world charm and modern amenities. Each day that you spend in this 100 year old wooden mansion situated on the bank of the holy river Pamba, you will feel the serenity, peace and joy, which has been long lost to the frenetic pace of the times that we live in. This is a golden opportunity to experience closeness with Nature.
Address
Address:
Near Nedumudi Jetty, Alappuzha
Country:

India

Province / State:

Kerala

City / Town:

Allapuzha

Neighborhood:

Pamba river
Open on Google Maps
Contact
contact@pambaheritage.com
The Pamba Heritage villa is a 110 year old wooden mansion which has been handed over to the succeeding generations by the great ancestors of the famous Kanjooparambil family. This Heritage Villa is situated on the banks of the holy river Pamba. Hence the name "The Pamba Heritage Villa". The Pamba River is the third longest river in the South Indian state of Kerala and the longest river in the erstwhile princely state of Travancore. The Pamba Heritage Villa is the ancestral home of the famous Kanjooparambil family. The portion of the house where the guests stay was originally the Ara and the Nilavara which were used to store paddy and other grains in olden days. It has now been converted into beautiful, spacious and ventilated bedrooms with attached bathrooms, having all modern amenities.