Daily Rent
For Month
For Rent
Kandath Tharavad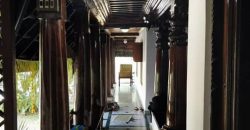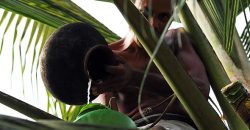 Description
Kandath Tharavad the ancestral home of the Kandath family is set in the lush rice paddies of rural Kerala in South India. The house is a two hundred year – old gem of domestic architecture constructed primarily of mud and teak.The house was built in 1794 by Bhagwaldas's Great Great Grandfather Mr. Kuppavelan, a landowner and money – lender.
Situated in Thenkurussi Village in Palakkad, the nearest town, an equidistant two-hour drive from Cochin airport to the West or Coimbatore to the East.
Five generations have lived here, as evidenced by the five ancestral stools in the Puja Room.
The Most striking feature of the house is the frontal raised area ("Purathalum") with grand bulbous pillars fashioned in teak at each corner rising to glorious carvings of elephants, snakes, fish and dragons. The floor is covered in natural dyed tiles of ochre, terracotta and blue. It was here until Bhagwaldas's Grandfather died in the seventies that the serious business of money – lending took place – most of it tiding the locals over between rice-crops
Address
Address:
Kandath Tharavad Thenkurussi, Palakkad, Kerala
Country:

India

Province / State:

Kerala

City / Town:

Palakkad

Postal code / ZIP:

678 671
Open on Google Maps
Contact
+91 4922 284124 / +91 9349904124
BhagwaldasBhagwaldasBhagwaldasBhagwaldasBhagwaldas