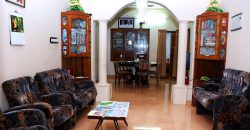 Description
Yoga Life Homestay is a unique Yoga Retreat Centre that combines the best of rural charm, the unique tradition and hospitality of Kerala, and a revitalizing regimen of Yoga. The guests stay in a farmhouse located in a one acre plot which is a riot of green. A beautiful lawn flanked by eye-catching flowering plants makes up the courtyard. Coconut trees, nutmeg, rubber, organically grown banana plants of choicest variety, papayas, and pineapple bushes surround the farmhouse, providing an ambience of pristine beauty.
The Homestay rates cover a minimum of 11 Yoga lessons a week, three main meals every day, tea, coffee, juices, snacks, and pure drinking water. Each meal is prepared afresh. Both Kerala and South Indian cuisines are offered.
Address
Address:
Aliyattukudy House Yogalifehomestay Mudakuzha P.O. Perumbavoor, Kerala.
Country:

India

City / Town:

Ernakulam

Neighborhood:

Thattekad Bird Sanctuary
Open on Google Maps
Contact
+91 9446139439 / +91 7902336858 / +91 484 2645089
solaman@yogalifehomestay.com
For the last 10 years Solaman has been offering Yoga Life Homestay at his own home in Mudakuzha ( Near Kuruppampady, on the way to Munnar on Alwaye - Munnar road before Kothamangalam ), a beautiful village in Ernakulam District, Kerala. The freshness of the countryside complements and sweetens the vintage Yoga regimen that the guests go through. Solaman is the host and instructor. Since 1996 he is in yoga, being trainer at Mahabalipuram. He has consummate Yoga routines for both the beginner and intermediate levels. Of course, higher level training is available for those who are already initiated into Yoga. Solaman's Yoga lessons focus on Deep Relaxation, Stretching, and Harmonizing Breath and Movements. He is a favourite of international tourists who find his classes highly rewarding.